Features:
1. Weather resistance: it can be used in a wide range of temperature from – 60 ℃ to 300 ℃ for a long time. The aging test is carried out under 300 ℃ for 200 days continuously. The strength and weight will not be reduced.
It can work at 360 ℃ for 120 hours without aging, cracking and good flexibility.
2. Non adhesive: paste, adhesive resin, organic coatings and almost all sticky substances can be easily removed from the surface.
3. Mechanical properties: the surface can bear the compression load of 200kg / cm2, and it will not deform and roll out. It has very low friction coefficient, excellent dimensional stability, tensile elongation ≤ 5%.
4. Electrical insulation: with unique electrical insulation, dielectric constant 2.6, dielectric loss tangent below 0.0025.
5. Corrosion resistance: it can resist the corrosion of almost all medicaments and articles. It will not be aged and deformed under strong acid and alkali conditions
6. Very low friction coefficient (0.05-0.1), is the best choice for oil-free self lubrication
7. It is safe and non-toxic, and has been approved by FDA and lfgb in Europe. It is widely used in food processing, packaging and other fields.
8. Resistant to microwave, high frequency, violet and infrared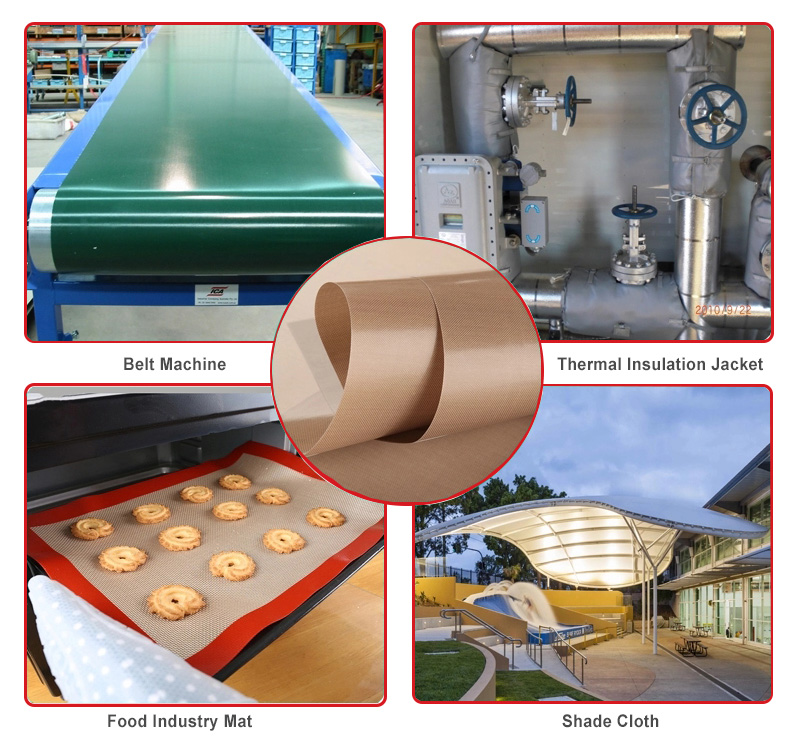 Applications: 
1. Adhesive resistant lining, gasket, cloth and conveyor belt; according to the thickness, it is used for various drying machinery conveyor belt, adhesive belt, sealing belt, etc.
2. Plastic products welding: Welding cloth for welding sealing; plastic sheet, film, heat seal lamination lining.
3. High insulation of electrical: electrical insulation tape base, spacer, gasket, lining ring, high frequency copper clad plate.
4. Heat resistant cladding: laminated base material, insulation binding.
5. Microwave gasket, oven, food drying, heat seal, frozen food transportation, defrosting belt, drying belt
6. Adhesive belt, transfer printing and pressing tablecloth, carpet back adhesive curing conveyor belt, rubber vulcanization conveyor belt, abrasive sheet curing off-type cloth, etc.
7. Mold: mold demoulding, pressure sensitive tape base cloth.
8. Building membrane materials: roof, Station Pavilion, parasol, landscape canopy, etc. in various sports places.
9. It is used for anti-corrosion cladding of various petrochemical pipelines, environmental protection and desulfurization of power plant exhaust gas.
10. Flexible compensator, friction material, grinding wheel slice.
11. After special processing, it can be made as "antistatic cloth".

---
Previous:
Pu Polyester Fabric
Next:
Teflon Coated Fiberglass
---