Product introduction
PU coated fiberglass fabric is made by formulated flame retarded aluminum pigment polyurethane (PU) coated glass fabric. PU coated imparts glass cloth good weave setting (anti-fiber fraying, fabric rigid) and water repel properties. The PU coated glass fabric is great material for welding or fire blanket, fire curtain. We offers high quality and cheap pu coated fiber glass fabric 450g/m2 to 1900g/m2. Similar function cloth of acrylic coated fiberglass cloth.
Heat resistant glass fabric with polyurethane coating on one or both sides. These fabrics are very flexible, they have very high mechanical resistance and they are chemically stable; these characteristics, combined with the high temperature resistance, make them suitable for the creation of thermal insulating objects.
Features
By coating polyurethane on the surface of glass fiber to form a protective layer, the glass fiber cloth is more wear-resistant, more comfortable, and waterproof and oil-resistant. At the same time, it has the characteristics of good economy, excellent fire resistance and flame retardant performance, and is widely used. For different application requirements, we specially configure unique polyurethane coating materials, combined with advanced coating technology, so that our polyurethane coated glass fiber cloth has the following characteristics:
Better fire resistance and fire resistance.
Better aging resistance.
It is easier to cut, punch and sew.
Better mechanical wear resistance.
More excellent waterproof and air tight performance.
More color choices.
Halogen free, more environmentally friendly.
Main Applications:
–fire blankets, welding blankets
–fire doors & fire curtains, smoke curtains
–removable insulation cover/jacket,general insulation wrapping
–expansion joints
–fabric air distribution ducts
–fabric ductwork connector
–other fire and smoke control systems
Our Polyurethane Coated Fiberglass Fabric could be the ideal and economic choose for the thermal or heat energy conservation and reliable protection for facilities from high temperature, sparks or fire hazards during hot work processing that involves shipbuilding, gas and oil refineries, heavy-duty machinery industry, electrical cable, and thermal ablation material for aerospace, etc.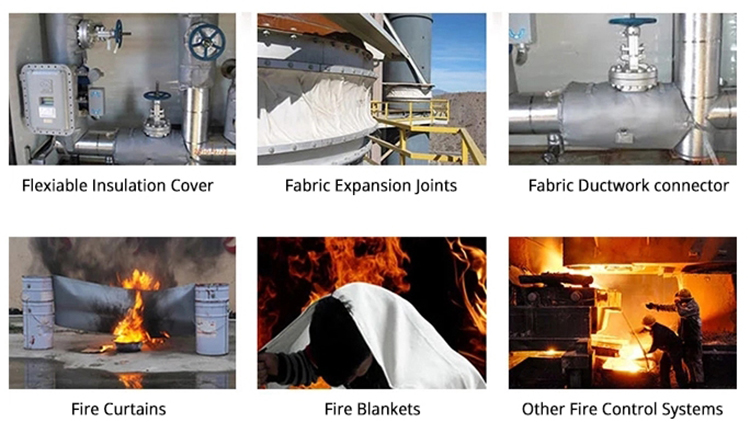 ---
Previous:
Aluminized Fiberglass Cloth
Next:
Ptfe Fiberglass Fabric
---